COVIDRIVE Study #1: COVID-19 vaccine effectiveness (CVE) against hospitalisation
Summary
COVIDRIVE's first study started in September 2021, and by 24th of November 2022 has recruited over 6173 patients and over 2800 COVID-19 cases across 15 hospitals in 4 European countriess.
Study design: multi-country hospital-based case-control study with test-negative case-control design.
Objectives
COVID-19 CVE against COVID-19 hospitalisations (primary and booster vaccination);
CVE by genetic variants;
CVE by time since last dose (duration of protection);
CVE in specific risk groups (immunocompromised, risk conditions, pregnant…)
Study progress
Recruitment started on Sept 15th, 2021 for AstraZeneca and Janssen. Moderna and Novavax started their study in June 2022, Sanofi and Valneva will start in Q1 2023.
Study outputs include thus far the first and second interim analysis reports for AstraZeneca's COVID-19 vaccine, submitted to the EMA; and the first interim analysis report for Janssen's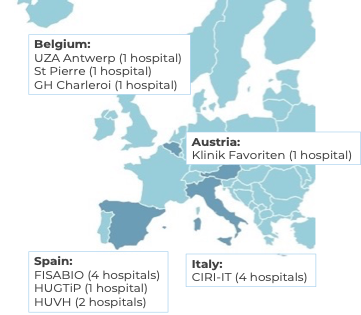 Participating hospitals:
Recruiting: Spain (7 hospitals), Italy (4 hospitals), Austria (1 hospital), Belgium (3 hospitals)
In start-up: France (5 hospitals) and Germany (2 hospitals)
In feasibility assessment: Denmark and United Kingdom (database-driven TND study)
Recruitment update (as of 24th November 2022):
6173 SARI (Severe Acute Respiratory Infection) patients recruited
More than 2800 COVID-19 cases identified